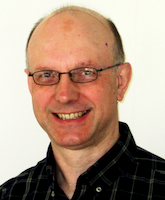 Mark Perkins, PhD | Managing Director
Mark is the founder, inventor and Managing Director of Repindex. He has an MA in Classics from Cambridge University, and also an MA and PhD in Applied Linguistics from Exeter and Leicester Universities respectively. Apart from being responsible for R & D, Mark has designed service models for clients such as Volvo IT and iPerceptions.
Nick Coutts, MA | Routes to Market
One of the world's leading authorities on routes to market, Nicholas helps clients select the optimum mix of direct and indirect channels and routes to market that will maximise market share, profit and brand objectives. Areas of expertise include supply and demand chain management, CRM, web sales effectiveness and web and channel navigation tools, and related technologies, including interactive digital TV, voice XML, mobile and fixed telephony services, such as broadband,and chip design. In addition to computing and telecommunications, Nicholas has experience in automotive, financial services and pharmaceutical sectors.